If you are an investor it will be important to follow Bitcoin in 2018. You are not required to take the plunge of a full Bitcoin as the price can move up or down 30% in less than 24 hours. Bitcoin is the most volatile asset I have ever traded, and I trade it everyday to stay fresh, because it is like my grandson: if I take my eye off him for 1 minute, he will cause havoc. He is just new to the world, and everything is interesting to him so he gets into mischief. BItcoin and my grandson are toddlers getting into mischief every day – they are the same age.
But forget about Bitcoin for a moment. As everyone else is talking about BItcoin, let me talk to you about Digital Currency Small Caps (Ripple, Cardano, IOTA, NEM and Stellar) which are on a tear as Bitcoin settles in for year end marks (final prices) on December 31, 2017. (Keep in mind that, while the last day for stocks was Friday, digital currencies aren't restricted by your 9:30 to 4:00 ET weekday window.) This is always important because there are tax ramifications for securities, digital currencies and any other asset.
If you click this link you can see the top 25 digital currencies, and the best way to keep score is to watch the total value of the coins (even in the world of digital currencies, we call this market capitalization) and Bitcoin is currently more than 2x larger than the second place digital coin called Ripple. These values are $217B for Bitcoin (BTC) and$89B for Ripple (XRP), with Ethereum at $67B (ETH) running a close third.
You will use these all of your life, so get to know them.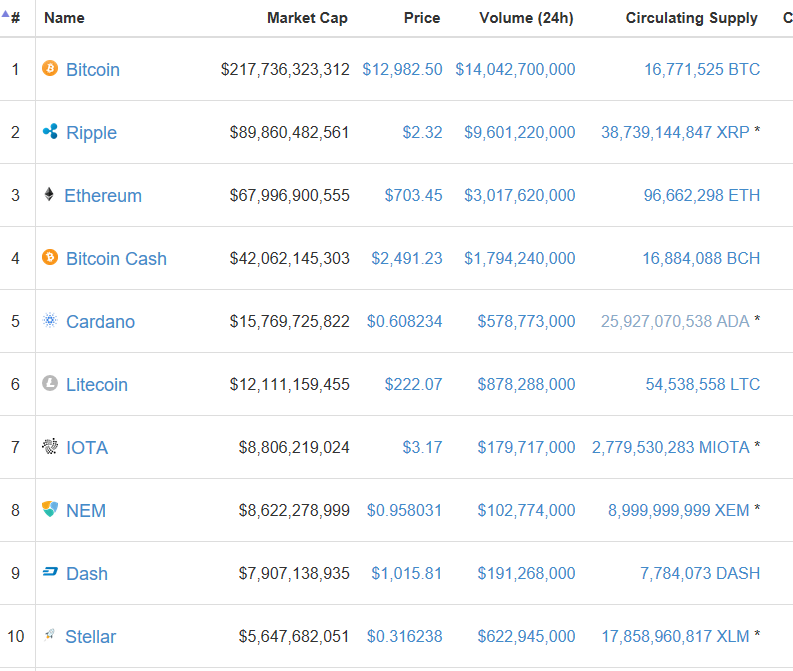 I suggest you do research on these Small Cap lower priced digital currencies (also called crypto currencies) and I will tell you why.  Because they are priced under $5.00 per coin. This is the same thinking behind the Small Cap stocks we follow here at Equities. This is where you can get information on asset classes that you can afford, and have it make sense. I like keeping these in my long portfolio of digital currencies because I know how much I can lose if they go to zero. Last time I checked, assets could not trade below zero. This is a great way to keep score, and I fully understand the risk that any digital currency I buy can go to zero. These are assets that can rally 100% in a few days, so the risk is perfectly balanced. If you understand the risk it is OK to own any asset.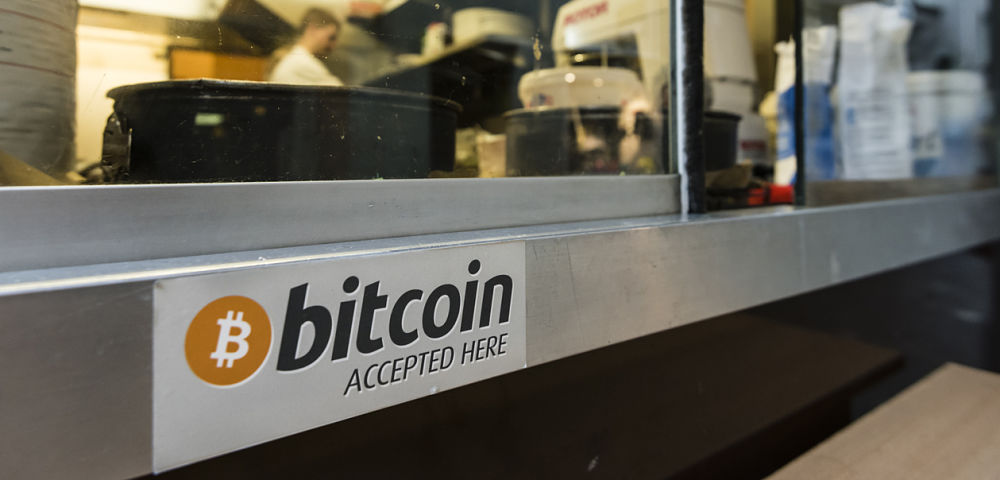 If you're ready to wade into a digital currency, you should only buy it only if you are willing to be in it for the long haul and not try the fool's game of thinking you can consistently time short term moves. Only buy. This is called a "long only" portfolio. I suggest you establish a long only portfolio in any of these below, and I suggest you diversify across many (at least 3), buy them, and sell only when they finish their secular moves higher. We have many price targets for smaller digital currencies in the $100 range which are now trading under $5. I know I gave them away at our family gift exchange ($25) and everyone was so excited to be long digital currency. Mom is long Ripple (XRP) which I think will trade $25 in 2018. These types of moves higher have been occurring in Bitcoin since 2015. Most of the world doesn't know, but if you're reading this and have been following this space, now you know.
Holding assets for the long term is the way smart investors become rich. My grandfather was long stock in Coke (KO), Ohio Bell, now part of AT&T (T), and many other stocks in his era of investing. My mother is long Google, Facebook and other tech stocks and has been long many of them since the 90's. They bought and haven't sold these long term assets. Oh, they may trim some profit, or spend a dividend or two, but they stay principally long, because they believe in owning premier assets for the long term. I believe in digital currencies today like my grandfather did with Ohio Bell – that the consumer would use the product.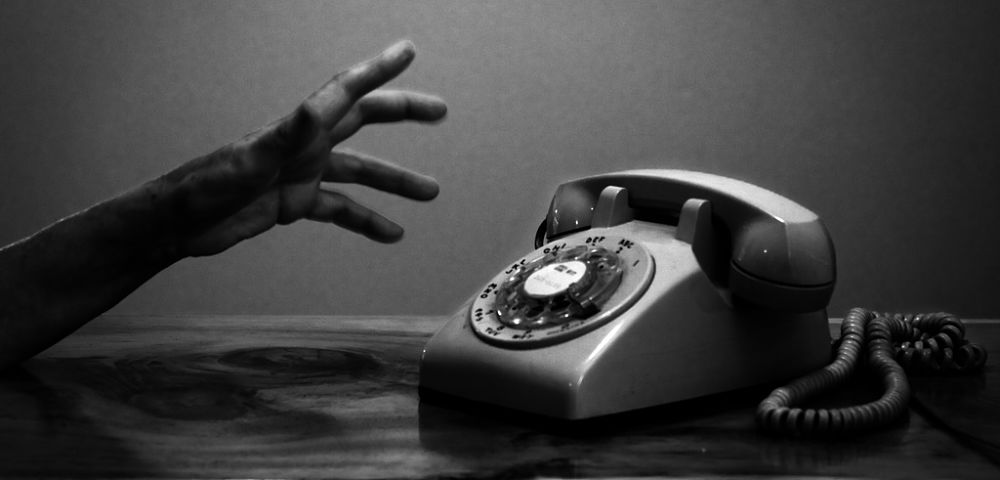 I believe that the consumer will use these top 25 digital currencies in my grandson's lifetime. This is why I am long them and plan to buy more and stay long. I bought $500 of Bitcoin and Ethereum every week for 2 years – you do the math. I exited Bitcoin because it reached my price targets, and I also exited Ethereum because it reached my price targets. I took the money and rolled it down into small cap coins. I hope that was not too confusing, but my Grandpa would have understood because he did the same thing in the 1950s except he got shares from the company as an employee, and he put any extra back into the stock, staying long only. He bought $5 every week of Ohio Bell for many years. That money is still in our family today. Long. Only.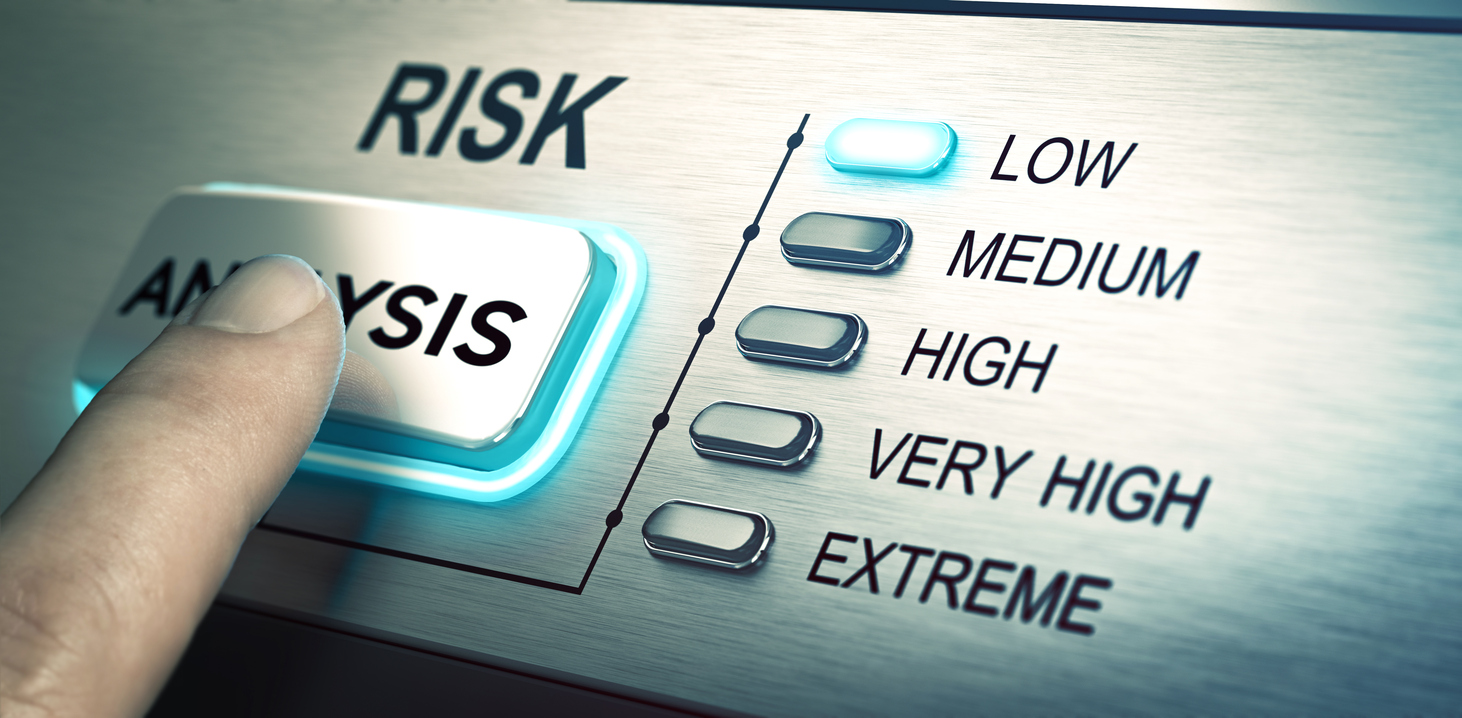 But long only comes with risk of course – the risk that you can lose the entire investment. This is the only way I know, so understand this going in. I also suggest you do not watch the prices every day, and remind you that this investment strategy in digital currencies is not for everyone except my grandson, my grandpa and me.
Happy New Year
Steve Kanaval 
Portfolio Manager/Writer/ Market Analyst
Can be reached at stevek@equities.com
Steve began his career in the Trading Pits in Chicago making markets at the Chicago Mercantile Exchange (NYSE:CME) the Chicago Board of Trade and the CBOE in the early 80's. He ran the Morgan Stanley Derivative Prop Trading for the firm specializing in Index Arbitrage. He continued his career as a Trader/Portfolio Manager for multiple Hedge Funds during the Internet Boom of the 90's managing large portfolios. Steve is known as an expert in MicroCap Technology Stocks and the emerging Digital Currency markets as a Portfolio Manager for his Family Office. Steve has managed portfolio's in volatile asset classes for 3 decades as a commodity trader, hedge fund manager and digital currency trader and miner. Steve publishes his views on the asset classes in a public forum and has published more than 10,000 articles simplifying these complex and volatile assets for readers. His work is published on multiple sites including Bloomberg, Equities.com, Hacked.com, CryptoCurrencyNews as a paid contributor. His work includes research, journalism and archived video on important market volatility related to stocks, digital currency and other volatile misunderstood asset classes. He offers a humorous, unique insight and the related back stories and drivers for readers interested in volatility and emerging market assets.
Full disclosure Steve is long 25 digital currencies and sits on the board of multiple public companies involved in digital currencies, and owns shares in these companies from time to time.